To add a touch of richness to your current decor, this Bedspread Set can update your room in seconds. A quick, easy, and  drumroll, please – budget-friendly way to refresh your guest bedroom or master suite sleep ensemble.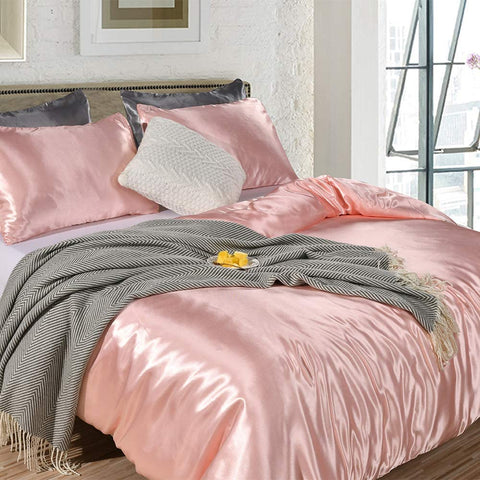 Step up your beauty sleep game and end the nightmare of messy, matted morning manes, split ends, wrinkles, crinkles, creases, sniffles, sneezes, and more.
Crafted from polyester awash in a solid color, each piece features a hypoallergenic construction – so you'll spend less time sneezing and more time snoozing! Even better, this set is machine washable for fuss-free upkeep.
Features:
【Good Quality】Durable, high-quality material designed for long lasting use and enjoyment. It makes of polyester, which is more comfort and secure when touch your skin.
【Vivid Pattern】Replace your winter quilts and blankets for a fresh pattern bedspread that is sure to bring a spring feel into your room on even the gloomiest of days.
【Easy Cleaning】You can machine-wash your Blissy over and over again and it won't get ruined like so many other fabrics. Because of its anti-bacterial properties the Blissy pillowcase can actually be washed 3x less than your cotton pillowcase and still be as fresh as day 1.The Blissy will always feel and smell fresh like it did on the very first day you used it.
【Appriciate Size】Width is a standard size for most of the queen/full size bed.
【It's sleep-inducing】It takes beauty sleep to the next level! It's luxurious, comfortable, cool-feeling material helps lull anyone off into a deep, restorative slumber, so you'll wake refreshed, rejuvenated, and invigorated. No more counting sheep or waking up looking like a hot mess.
Care Instruction
✔Machine wash separately with cold water, gentle cycle.
✔Do not use bleach. Tumble dry, low heat.
Spread Dimension:
Twin Size: Quilt: 66" x 90", Pillow Cover: 20" x 25"
Queen Size: Quilt: 90" x 90", Pillow Cover: 20" x 25"
King Size: Quilt: 103" x 90", Pillow Cover: 20" x 36"
Package Includes:
1 quilt cover, 2 pillow covers.1 x Fitted Sheet